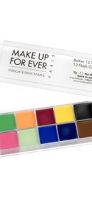 Make Up For Ever Grease Paint Case
As low as
Endless Possibilities!

I've written many times before of my addiction to palettes. I had to think about purchasing this for awhile, as $99.00 is a steep investment. However, when you divide the price by the number of versatile colors you get, you're paying $8.25 per professional hue. You'll feel just like Kevin Aucoin himself when you blend these colors, creating unique new eye shadow, liner, blush, and lip color com...read morebinations. The colors are fascinating and quite vivid: Metallic gold, vibrant coral, light turquoise, bright fuschia, sunny yellow, dark brown, metallic silver, virgin white, pure red, vivid cobalt blue, bold green, and black. Be forewarned that there are hues not to be used on lips and eyes. These are deeply pigmented, and you may be in for a little more color than you expect, so start with a light hand (actually, this is not a palette for beginners in the first place). You may find stains of colors even after you cleanse your face, so use a good oil or oil-based cleanser first and follow with the product of your choice to deep-clean. I do have some problem with creasing. Sometimes the colors begin to crease before I am finished applying. Primers help with this problem somewhat, but you may want to keep the palette with you in case your colors crease during mid-day. All in all, it offers endless possibilities.

I like it!

It's 95 dollars and that usually turns people away IMMEDIATELY. But if you work in make up often, this palette is one of my go-to's because it has EVERY color you will need and you can mix them to create new colors. I know that this has the superior long wear ability that I expect from Make Up For Ever, so if you apply makeup often, this is a great palette to have. Be warned that there are colors ...read morethat you CANNOT use on your eyes (the pink/red/orange) and there are colors you CANNOT use on your lips (the darkest). Since this is very creamy and pigmented, a little goes a LONG way! I use it all the time and I've barely made a dent in it! I HIGHLY recommend using a translucent or eyeshadow powder to set this or else it will crease very fast.

Versatile

I bought this because it was used as blush during a demo at the make-up show and I loved it. I started using the flash color palette (that's what the picture is of but the name of product is different) as blush because it was so easy and you only need the tiniest amount of product. Just mix a small amount of the peachy pink and a teeny tiny amount of the magenta pink to get the perfect color. Only...read more thing is, if this is grease paint, it probably is the culprit of my breakouts!! I'm going to double check the ingredients on this one. I've seen it used in a lot of magazine spreads for eyeshadow and such as well.

Back
to top