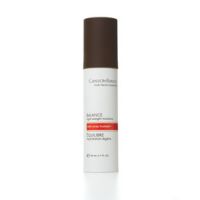 Canyon Ranch Your Transformation Balance Light-Weight Moisture
As low as
Good, But There Are Better

Canyon Ranch "Your Transformation™" products have a great reputation. They are formulated with ProNAD,® a patented and penetrating form of Niacin (Vitamin B3). It is supposed to stimulate DNA repair and improve cell regeneration. Also included is Ceraplex,™ which locks in moisture to plump and firm skin. Antiox-3™ is a mix of three powerful antioxidants--blueberry, bearberry, and goji b...read moreerry--which is supposed to protect all layers of skin and improve hyper-pigmentation. I tried their "Balance Light-Weight Moisturizer." While it smells nice and has a pleasant, silky feel, I did not see any exceptional benefits with this. I did not pay $56.00 for less than two ounces but reviewed it for a beauty site. It performs acceptably, but no better (and probably worse) than many drugstore products, especially Olay.

Over priced & mediocre

I got this as a full size sample from Dermstore, which usually means no one is buying it. It doesn't brighten, balance, or firm. I've used Olay products that I liked better. Granted, it didn't leave my skin sticky, greasy, or dry, but it certainly didn't live up to its claims. The listed price for this puppy at Nordstroms is $75! Really! Just because a product is spa based doesn't mean it's good. Save your money.

Back
to top