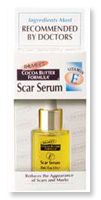 ScarlessMD

I had a surgery on my leg that left a 5 inch scar and started using Scarless MD, a product I discovered on Amazon as soon as it healed, 3 months later the scar is barely noticeable, will continue to use until scar completely fades.

worth the money

I don't know if this actually reduced my acne scars at all. But it was easy to put on. It smelled kind of bad but I like that it has vitamin E. I wouldn't put it on and go out somewhere fancy because it shows on my skin.

I was prego

After my pregnancy I had stretch marks all over my stomach, I was horrified and I wouldnt even look in the mirror. My tummy was all flabby and red with marks. I tried This product and I saw results within the first week. It made the red marks less red and seemed pink. This product didnt make them vanish for good but it did make them less noticble by removing the color. It also made my skin tight a...read moreround my tummy. I think this product does work and it lasted me for about three months. I advice prego women to use this prduct while prego so u wont be left with horrifying marks afterwards. I think the price is reasonable. I would buy this product again.

Back
to top