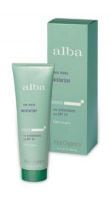 Eh....

I bought this on a whim one day while at a drugstore. It is somewhat pricey for a drugstore brand, given the tiny tube it comes in. But I wanted to try it because a vegan friend once raved to me about this line and I was curious. Pros: The smell is wonderful. It's lightly scented and absorbs very quickly into the skin. Does a decent job of moisturizing dry skin and isn't overly oily. Gave my face...read more a nice matte look when it dried. Skin looked radiant and glowed. Cons: It broke me out within 3 days! And it gave me the most horrible kind of acne too, the deep cystic looking kind. I rarely break out, so me getting these types of pimples was very upsetting. I stopped using the lotion and resumed again a few weeks later, thinking maybe it was a fluke. Nope. It happened again, my face broke out within days of using this lotion. I really wanted to love this product, but it just isn't for me.

Awesome

I love this entire line of products. It is gentle on my skin, natural, and cruelty free. I've never broken out, and I like that it moisturizes and doesn't leave my skin greasy. It's also a great price for having sun protection. It dries nicely, leaves my face feeling soft and clean. I have combination/normal skin and this is my go-to day-to-day moisturizer for the summer months because it is lightweight and is spf 15.

Not bad

This product really does its job. the only thing i dislike about it is that in the middle of the day, my face breaks out in a lot of oil.

Back
to top