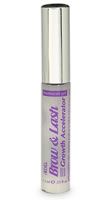 A beauty disaster.

I was so excited to try this product, and have been searching for it everywhere! I'd heard really good things about it on another makeup website, so I figured for $4 it was worth a try. I gave up on this product after a week. While this product did not make my eyelashes fall out, and may even have maintained my lashes, it caused my eyelids to itch terribly, and my eyes were producing the little c...read morerusties. Sorry--it's gross to say, but even worse when it's happening to your eyes. Oh well. I haven't thrown it away yet, but I should.

Did nothing for me

After reading the reviews and seeing the price, I decided I really had nothing to loose. If it didn't work, I'd only be out a few dollars. Well... I am out those few dollars. I used it nightlyfor approximately 2 months, on my lashes and brows, but nothing! And I mean NOTHING! No new growth in my eyebrows at all. There was also no difference in my lashes, no new growth, no increase in length or ful...read morelness - nothing. Unfortunately, this product didn't help me at all. The one positive thing I can say is that it wasn't irritating to my skin. But with so many positive reviews and such an inexpensive price, it still may be worth a try for most. Good luck!

Irritating, but cheap.

There are a number of products out there that promise to condition and lengthen lashes - Ardell, Mavala, Talika, Revitalash are just some of them. The difference in price between these products is almost breathtaking (Ardell is under $4; Revitalash up to $170 and Mavala and Talika somewhere in between). So far I have tried Ardell, Mavala and Talika. Initially I liked both Talika and Ardell, but th...read moreey started to irritate my eyes after a few days. I couldn't keep Ardell on for long enough to figure out if it works...For a cheap-ish, non-irritating lengthener I would choose Mavala.

Back
to top