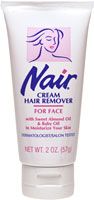 Nair Hair Removal Cream with Baby OIl for Face
As low as
The cheapest way to take care of my peach fuzz

I have been using a facial hair remover since late teen years, but I have not found one that gives absolutely no irritation/no burning sensation, causes no redness, or has no unpleasant scent. Therefore, I tend to come back to Nair's. Like the direction says, definitely do not rub it in. This cream does not smell really good, but not unbearable. I leave it on for about 10 min, and it removes my un...read morewanted peach fuzz above my lips very good for a long period of time. I find that using face cream is much less painful than using wax. After removing facial hair with this, I suggest to use a good facial moisturizer or face cream to nourish the skin. I don't think that this cream is suitable for sensitive skin. This product is not perfect but it is a quicker, less expensive and less painful way to remove my facial hair than Sally Hansen Brush-On Hair Remover For Face.

Not the best.

Nair has a weird smell to me. It seems to only break the hairs off of the skin, rather than removing them like with waxing.

Nair Nair Now!!

Ok, I've used this on my face and suprisingly I didn't break out. The product does live up to its name and the value and packaging was worth the money. I would use the product again.

Back
to top