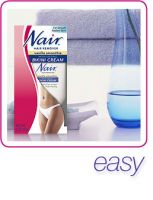 Nair Vanilla Smoothie Bikini Cream
As low as
Quick hair removal

The product lable says this is for bikini area, but I also used it for my legs and arms. It comes with thick beige color cream, and has sweet vanilla scent but smells very artificial. It removes unwanted hair pretty good quickly (approx 5 min), but I don't think that it lasts much longer than a good close shave. Also, it is not very easy to wash this cream off from my skin. This may not be for super sensitive skin.

Works 50% of the time

Sometimes this stuff works great for me and other times it just doesn't. I think I would recommend it someone who has finer hair. I have very thick, coarse hair. Priced very reasonable.

Good for down...But not too far "down under."

I'm a guy...I wanted to be smooth "down there"...you know, all over. So I put it on my whole "bikini" area, but also down under...Everything else was fine, except some hair came off from my inner thighs where the cream touched unavoidably. But WHOA! underneath, (my balls for those who need everything spelled out,) five alarm fire!!! I got into the shower and neutralized ever...read moreything with water, and it is smooth, all the way to my "tush," but my nads are red!!! I left it on everywhere for five minutes, and those areas probably would have been OK with just two, or less. I put on vitamin e oil and the boys are doing OK, (feels like a first afternoon in the sun for an hour too long without sunscreen. Hot and red, but bareable.) I am writing this to say "DON'T DO IT!!!" Bikini area ONLY...OK, but I'll lather up and shave the land down under under in the future. Hope this saves some unsuspecting chap from the "hot, err, seat!" And every word of this is true, (and experienced in the past 2 hours...no lie!

Back
to top