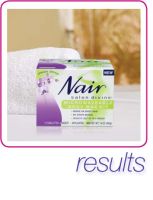 Nair Salon Divine Body Wax Kit
As low as
A good deal for hard wax

Generally, I like this wax. It's a hard wax so it's used without strips and is less painful than traditional warm waxes. As a convenience factor, it's microwavable. It has to be cleaned up with oil but it cleans fairly easily. As far as performance, it does get most of the hairs but I've found I often have to go back over some areas, and even then I'll have to tweeze some stragglers after (use...read mored on bikini line, so it's fairly good at removing coarse hair). The kit only comes with one spatula that is wooden, so you'll definitely have to invest in more. There's way more wax than just one use (a good thing, of course!). As for the "Sensual Orchid" scent, I don't like it but it's not bad enough to stop me from using. I will probably try other wax kits after this.

A home wax kit that really works!

It removes all hair - not just the fine stuff! I admit it, thanks to PCOS I have some whiskers on my chin. Most home wax kits won't remove them - and what's the point of waxing if you have to go back and tweeze? The Nair Salon Divine Wax Kit removes hair of all textures in the areas where it's applied, though like any wax it can take a bit of practice to get the hang of exactly what timing and ...read moretexture works best. Thanks to not needing a warmer or strips, it's a great value. I just have one complaint - for a body wax kit, one spatula isn't nearly enough and you'll have to hunt down a beauty supply store to buy more because many drug stores don't sell them. Which means unless you know where to find extra spatulas and are willing to go to the trouble, you may end up with more wax than spatula.

Back
to top