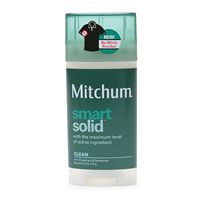 Only thing that works for me!

I've been using Mitchum since I was old enough to wear deoderant. My mom used it, so I used it. I've tried other products, but nothing keeps my armpits in check like Mitchum. I've tried other products, but always come back to ye old faithful. They seem to have "tweaked" the formula in a good way - it used to leave yellow stains on my whites after wearing and sweating in it a few times, but not anymore. You can't beat this product and for the price - totally worth it!

disappointing

I don't know wht has happened to the quality of this product ; I didn't like the scent, and it was not effective as a antiperspirant.

what a mess

The product actually works very well, but after a few uses, it just crumbles into little bits that are unuseable. And that's a shame. The product is light, keeps you dry and odor-free, if you can pick up all the little pieces that drop and apply them with your hand. So much of the product gets thrown in the trash can. I did contact the company to complain about the product, and they said they were...read more sorry and never had the problem. They sent me a replacement in the mail but it was exactly the same.

Back
to top