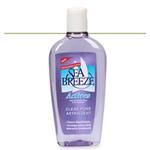 OMG!

My mother used to wipe this on my face as a kid when I was being too "messy" and I used to yell and she would have to chase me around with a cotton ball to finish the job. This stuff is just pure alcohol. You might as well rub some 151 or vodka on your face!

Only for super oily skin types

I come back to this after trying all other astringents because it's the strongest with 2% salicylic acid that really declogs my pores. For the price, it is worth it when I need to exfoliate my skin. It softens skin afterwards, so best not to put makeup on afterwards. Not for normal or dry skin types for sure. the fragrance is on the strong side that clashes with your perfume.

Not for me

I went to my local cvs to buy all my facial products. I decided to go with this toner and it is not what I expected. It's not gentle, it stings like crazy, my face turns a little red. I use moisturizer and the sting goes away though so it's fine. Not recommended for buying. Save your money and go for something else.

Back
to top