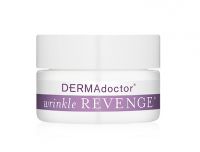 Amazing!

I was given a sample of this by a friend and I can't wait to go out and purchase the full-size product. I don't normally use any eye treatments, but since I had the sample I gave it a try. The results were amazing. I don't usually care enough (or have time) for concealing my dark under eye circles, so I noticed right away that after just a couple days of use this product had significantly reduced ...read morethem. No more bags and no more dark circles. I didn't notice much, if any, improvement in the tiny lines around my eyes, but the sample size only contained enough product for about a week's use. The full-size product is expensive, but I know I only need to use a tiny dot (about lentil-sized) to be effective, so one jar of this should last long enough to be more than worth the cost. Update 6/13/12: I did purchase the full size jar of this eye cream and I remain impressed. I tap a tiny bit into my under eye area every evening (and in the morning if I remember and have time) and I continue to have significantly reduced dark circles and no bags under my eyes at all. This cream has also diminished the fine lines around my eyes enough that the cashier at Sephora told me the 500 point perk was an anti-aging kit but that I definitely didn't need it. It is a small jar for a lot of money, but I've been using it daily (sometimes twice daily) and have barely made a dent in it. I'm hooked for life! Update: My first jar lasted about a year and one month. It started to dry out a bit (I think I wasn't closing the jar tightly enough there for awhile), but I was still able to smooth it under my eyes and it remained effective. I bought a new jar and feel $48 a year is worth having almost no darkness under my eyes.

Revenge the wrinkles

I have used this product for about 3 months now and with amazing result. My eyes look much younger and brighter. It does soften the skin and moisturizes the wrinkles.

Best eye cream

Very good for eyes.

Back
to top