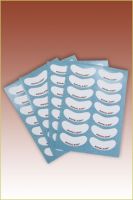 Peakman

This product is realyy goodd andd worthh the pricexx

Letstalkmakeup.com

These are the best under eye lash stickers for your money. They stay in place without leaving any kind of residue in the eye. They really keep the bottom lashes from popping up.

Undereye pads

These pads make application so much easier. They speed up my application time and are easy to apply and remove from my client. Can't live without them.

Back
to top