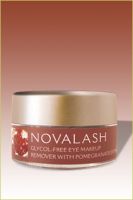 Love it!

I LOVE this product, it was recommended to me and I just love the way my lashes look after I use it. I seem to sometimes have a problem with tangling, matted lashes and no more once I started using this!

AMAZING product

I absolutely love this product. It definitely prolongs the wear of my lashes. I am a certified extensionist and have the eyelash extensions myself and have had nothing but great results with this product. Clients love how great it not only removes eyemakeup but keeps the lashes soft as well. It is a great value for the cost as well. Very affordable and really, truly works. I love it!!!

Novalash Nighttime Conditioner/ Cleanser pads

I recommend this product to all my clients, and they love them. It extends the life of your lashes, helping to keep lashes looking glossy and curled. Excellent for conditioning the eye area!

Back
to top