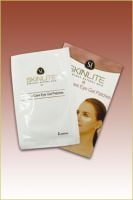 Soooooooooooooo comfortable

My clients love how comfortable the anti-wrinkle pads are when my clients are getting their lashes applied,I love how the cooling feeling calms down some of your under eye puffiness after a long day when you apply these. Gel pads lay down perfectly the whole time the lashes are appiled and you dont have to worry the patch curling up or lifting.

It Works

Novalash Anti-Wrinkle Gel Patches is very easy to use and you get great results thank you love this product

AWESOME PRODUCT FOR PUFFY TIRED EYES

I use these gel pads on my lash clients while applying lash extensions, they love them! I used to use nexcare gentle tape.....OUCH!! Clients return and purchase extras to take home fo later use for puffy tired eyes. You can kick back w/them on under your eyes while watching a movie and let them go to work. Simply the best!! Highly recommend!

Back
to top