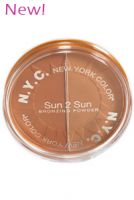 Editor's Rating & Review
NYC's Sun 2 Sun Bronzing Powder pairs two shades in one compact for a bronze glow with a hint of color. But a word of warning: Colors may not look very natural on your skin tone. (Case in point: In the bronze/gold compact I tried, the gold color alone gave my light olive skin an unnatural yellow tinge. Blended with bronze, the effect was a little better ... over my fake tan.) While the pressed powder likely absorbs oil, it doesn't dramatically minimize shine. But it does goes on smoothly, add shimmer and blend well into skin to last all day.
Reviewed by Sarah on 07/11/2008

How we review products
Good deal

The color selections are pretty good, so you can definitely find the right sunkissed color for your skin. Some colors were too orangy, but since there are 2 tones, mix the colors and you can adjust the shade. It's pigmentation is just right, since you don't want too much pigments or you'll end up streaky. This goes on BOGO sale once in a while; then it's a really great bargain.

Love this!

Even for my skin tone this product just does wonders at giving you that perfect, glowy skin. It warms your face with giving it just a perfect hint of that J-lo glow!

great bronzer and for contouring!

I saw a girl on you tube using it to contour her cheeks and highlight under her eyes and her tzone then added a little blush of her choice depending on your eyehsadow it was awsome! I bought one and it works great o pretty just learn how to use it!! I even bought a few!

Back
to top