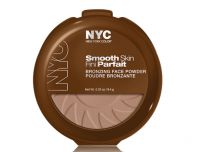 Overrated....

A lot of people on Youtube sure love this so I went out and bought it right away just to see if I would be part of that same group. First off, not a big fan of the packaging at all. I understand that you get what you paid for but come on, ELF is super affordable too but they never lack in the packaging department. This bronzer's plastic packaging was so flimsy that I'm afraid to mix it in with my ...read moreother makeup in my makeup bag because it would open and just spill out everywhere. I found this to be super orange. It is not natural looking at all. Love that it's matte and that's about it. Even though this is cheap, I returned it right away and rather spend those dollars on ELF products instead.

Welcome to the minority :)

There is a cult-like following for this product, so I know I will have many that will disagree with me! :) Don't get me wrong; I do like many of the NYC products including the Smooth Skin line. However, where I differ with this product is that it only comes in 1 color (that I have ever found) - Sunny. Sunny in itself has a cult following; even trusted bloggers and You Tubers that I follow religiou...read moresly for beauty LOVE this product. The color Sunny is very much a terracotta color. I love that it is matte, but on my light/medium olive skin it looked too orange. In fact, I actually cannot picture a skin tone that WOULD look good with this color but people really seem to like it. At least the price is right, so if it doesn't fly with your skin tone, it is easily replaceable. The powder itself is nice, just a challenge with the color and not enough of a color range. It also didn't work with contouring as the color was so off.

Surprisingly Good Product and Not Expensive!

I was very hesitant to buy this product after reading the review from the person below who was very fair skinned and was unhappy with the product results. I, too am VERY fair skinned (I've been told I am so pale that I'm almost clear) and have found only too many bronzers to be far to pigmented, even when applied with a light hand. The other reviews gave this product the thumbs up sign and I fig...read moreured why not for $3? Unlike the other fair skinned reviewer I LOVED this! No shimmer so it didn't make me look shiny or oily, it blended well but you must use a brush(toss that sponge that comes with it!). I would not only buy this again but would highly recommend it!

Back
to top