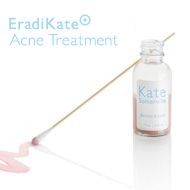 Super Strong

I really love how quickly my chin cleared up using this, within 2 days. My only complaint is that a week later my chin area is dried out and flaking. I like it and would still continue to use it though.

Not worth the price at all!

Either people r giving good reviews bc it's a popular product or it just didn't work with my skin. 1st problem was that it flaked of my skin, so by the night time it was all over my pillow and in my hair and none was on my face. 2nd thing was it didn't even help with the size of the pimple a little bit! When I washed my face the product made pimples seem less red them before with lasted only a few...read more minutes after I had washed my face. This was really surprising bc my acne isn't even that bad! Also people complain a ton about the smell but I didn't really find that is was a problem till u washed it of. So beware that even if u wash ur face 4-5 times after using it u will still smell like crap

Exclusively from the editors at Total Beauty

Get the Buying Guide to see these top-rated products!

Get it now »

Changed my Skin for the Better!

I have extremely oily skin and suffer(ed) from moderate-severe acne. I tried so many treatments, including Accutane and prescription topical creams, but nothing could clear up my acne. At night, I wash my face, apply serum, and then spot treat with EradiKate and by the next day, my pimples are completely gone! Amazing, I cannot see myself ever discontinuing use! This is a game-changer. If your ski...read moren tends to dry out, it might make your skin flaky and dry, but I have not had this problem at all. The only bad thing about this product is that it dries with a light pink colour, so you can only use it at night and it's not very cute! Haha. It also has a slight sulfur smell, but it's not too strong.

Back
to top