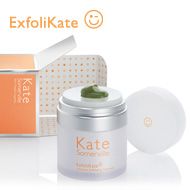 Wonderful!!!!

Honestly, I prefer the ExfoliKate Gentle formula, it's less harsh but delivers the same results. I have never used an at-home exfoliation product that performed as well as this. This really smoothes out my skin and makes it glow. It works WONDERS if you have a breakout. You only need a TINY bit of this, so a tube goes a long way, even at a really expensive price.

Forgotten love

I had a sample of this once a couple years ago and seeing this product on here immediately brought it back to mind. I LOVED this. It has a nice scent, it was easy to apply, and I could feel it tingling and working while I left it on my skin as instructed. When I rinsed it off, it left my skin looking amazing. It is only the price that put me off from buying the full-size. If you can afford it, I definitely recommend trying this out!

Just used it for the first time

I have heard about this product for a couple of years and finally bought a trial size from Sephora. Small tube but a little goes a long way. It immediately tingled when I started smoothing it on my face, and that only intensified. I can see why they may a 'gentle' version. The full strength version is not ideal for sensitive skin. When I rinsed it off after a couple of minutes, I see smooth, shiny...read more skin. Not tight. Not painful. It feels like it would post facial. Nice! The only reason I don't give it a 10 is because of the price.

Back
to top