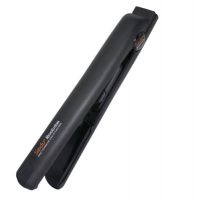 Amazing flat iron!

This flat iron is the best I have ever used. It heats up in under a minute and it reatians it's heat after each pass. The temperature is adjustable and it goes all the way up to 450 degress. With my old flat iron it would take 30 minutes to straighten my hair because I had to make mulitple passes, with this one I only need one pass to straighten my hair, so I can do my whole head in under 10 minut...read morees! And it leaves my hair very silky and smooth. I would definately recommend this to any one no matter how curly. I think it's well worth the money.

I love it except for 1 thing...

I purchased this in 2011. worked AMAZING. My hair didnt fry as much as the flat iron I use now makes my hair do. one thing. one side of the plates stopped working and so it doesnt give me a good straighten any longer. Thank goodness for warranties or else i would be paying another $200!

Hey that's my flat iron ! Lol

I got this flat iron maybe almost two years ago from ulta after hearing great things . The heat goes up to 450, the temp I use on my thick, coarse aa hair. I use it to straighten my whole head once every week or sometimes once every other week. I use it a couple more times to re straighten certain parts. It works perfectly for me, if it got lost or broke I would buy the exact same thing.