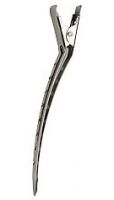 Ouidad Duckbill Clips
As low as
Clips

I like to use these section off my hair after blow drying so I can flat iron it. They do a good job of holding the hair in place.

Amazing- SO simple, but they really work for "lift"!

I recently started using the Ouidad products, and got 5 of these clips with the first "kit" of products I ordered, Amazing, as they are SO simple, but they really work to give lift to my curly hair, and they are so EASY! Love them. And all I personally need for my hair is 5! I also finally went and had a cut (and color) at a Ouidad certified Salon (with Ana at Tivon Salon in Blacksburg VA). Not c...read moreheap, but very good, and she taught me how and when to use each product for my specific hair and styling issues, and how to use the clips so they don't get tangled in my hair. The trick: you slide them in (on their side), and then lift the end UP. :-) You want to get as much lift as possible out of them, so your hair doesn't fall flat against your scalp. I use them with the Climate Control, Botanical Boost, and/or Play Curl Foam, and I do get waves, curls and height! This is the first time I've ever done anything specifically to enhance my wavy/curly, fine (& often frizzy) hair and so far I like it a lot. I'm not totally "there" yet, still experimenting with a number of their products and ways to style my hair (and using the diffuser makes a BIG difference for me), but I really like the Ouidad products so far, and they seem to be working for me. Although you often use a Lot of product, my hair is never stiff from them, always soft and bouncy and shiny, and the styling techniques the stylist taught me are "doable" at home & easy- and I'm a big fan of "low maintenance" hair styling!