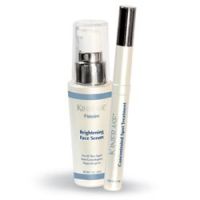 The Best I Have Found So Far

This system is truly the best I have found so far when it comes to brightening skin and getting rid of those terrible "spots." I developed a small spot on my upper cheek during my second pregnancy due to hormonal changes. I tried other spot clearing products from top brands but NOTHING worked like the Kinerase system. Literally in 2 days I noticed fading and now after a couple of weeks ...read morethe spot is actually gone. All skins are different so results will vary but do be patient and give the product time to work. I recommend use of sunscreen along with this system. I am very pleased with this and will keep using it.

IT WORKS!

I love this product! It truly works on any age or dark spots you have,they will be gone and i did not have to use it for a month or more to see results. extremely pricey but worth every penny. will give your skin a beautiful bright even skin tone and glow no matter your age. I had developed a dark spot under my eye and in my temple area,after using everything on the market i tried this. they were gone in 4 days and they did not return! Love this product!

Illuminating!

This stuff is amazing! My face is glowing since starting this kit. I saw results immediately. I was a little concerned because I have very sensitive skin and alot of brightening systems tend to irritate my skin but this is very mild.

Back
to top