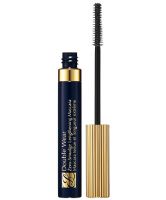 Editor's Rating & Review
Estee Lauder Double Wear Mascara is a winner. The long-wearing formula adds natural-looking length and gives you clump-free, nicely separated lashes. It won't smudge or budge all day (even in humidity) yet it washes away easily with cleanser and warm water. A few residual bits of product may linger after cleansing but they are easily swiped away. Will this replace my all time favorites, Lauder's 
Lash XL
and Lancome's 
L'Extreme
? The jury is still out.
Reviewed by Kristen on 11/17/2008

How we review products
Long, Separated Lashes--for a Very Long Time!

Yes, I've found another mascara I love and I'm hard on mascaras! It's Estèe Lauder's "Double-Wear Zero Smudge Mascara." This innovative formula won the "Shape of Beauty 2008 Awards" and the "Shape Magazine Awards" the same year. The special Lash-Xtender™ brush does a great job of locating, delineating, and coloring each and every lash. The micro-bristles go deep into the lash bed to comb an...read mored separate lashes, coating them in glossy color which wears at least fifteen hours without smudging or flaking. Estèe Lauder's "Smudge-Shield"™ coating has polymers to lock in mascara, keeping it on lashes and away from your face. It resists heat and humidity, as well as perspiration. I also like that fact that it comes in brown for when I want a softer look. This great mascara is ophthalmologist-tested, fragrance-free, and perfect for contact lens wearers. It separates my lashes wonderfully and keeps them that way from the day through the evening.

Outstanding mascara that is REALLY Zero-Smudge

This is a lash saver for those of us who usually have to use waterproof mascara due to chronically teary eyes. It thickens and lengthens nicely, clumps a little bit, but has a nice brush that easily fixes that. Best of all, it is great for sensitive eyes and completely stays put all day. This is the first mascara I have ever tried that does not smudge AT ALL by the end of the day, even on watery...read more eyes. It removes very easily with warm water so it is easy on the lashes but probably not the best for hot tubbing. It is a bit pricey, but the results are outstanding if you are looking for smudge/tear-proof.

Not a fan

I don't think I like this masacara. I have a sample of it and decided to use it because I left my other one at work. When I first applied it on one lash, it seemed a little too clumpy for me, but then I applied it to the other last it looked great. So I just went back and fixed the first one. It took a little be too long to dry for my taste, but I was able to get it to look presentable. It wore we...read morell for most of the day, but at some point I touched my eye and the mascara started to some off; some of it got in my eye so my natural reaction was to rub it and it all came off in wet clumps! I just thought that was a bit weird. Whatever was left over was easily removed with a makeup remover wipe.

Back
to top