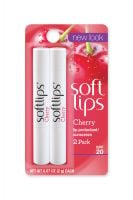 Editor's Rating & Review
Softlips is a classic, slim and inexpensive lip balm that should be in every girls' purse. The SPF 20 is it's best feature and so important for keeping lips healthy. A mild shine and fun flavors (like raspberry with green tea extract) also make this a treat. My major complaint is that the slick formula just doesn't last very long. Right after application, it seems to either absorb or slip off (or maybe I'm just licking the great taste away). Whatever the case, expect to (happily) apply it often.
Reviewed by Sarah on 06/27/2008

How we review products
Softlips is Sublime!

Very few balms can compete with the luxurious feel and the overall effects of Softlips Lip Protectant/SPF 20. I love the flavors and the wonderful scents. The slick, thin tube slips in my purse or pocket with no problem. This is a must-have for every woman!

Like It!

I use this in the summer since it has spf protection. Smells great, taste ok too. As with most lip balms you have to reapply often.

Love the Scents

So I got a special edition pack, and it came with vanilla and a winter mint one that I absolutely loved! The vanilla was okay but not as pleasant as the mint one. It really moisturizes lips and keeps them nice and soft throughout the day, needing touchups only after meals. If the mint one comes out again, I will be sure to repurchase it! The SPF 20 is definitely a good plus, it helps me be sure that my lips are protected against the sun's harmful rays.

Back
to top