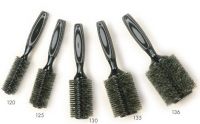 Spornette Touche
As low as
okay

very light, good dense bristles, not too scratchy or shed prone. tends to accumulate alot of hair and are very hard to clean. the handle is weirdly textured, like a hard foam or something. generates static on my hair.

Must Have For Blowout

I purchased this for about $18 from my salon after it was recommended to me by my hair stylist. It was the smallest brush there and I really did not want to pay that much money for a "brush" but I loved the way it made my hair look when my stylist used it on me. Before I was "blowing out" my hair (a.k.a. attempting) with a rinky-dink Conair large diameter brush with a ceramic center. My hair was a...read morelways frizzy and I always had to go on top with a flat iron. My hair was very dead and had a lot split ends so the first thing my stylist suggested to me was to cut down on the heat by ditching the straightner and just blowing out my hair instead. Now, with this brush in the 1-3/4'' size, I can achieve a frizz free blowout and do not have to touch up with a flat iron. This brush has a wood center, instead of a ceramic, so it is easier on the hair and is not a conductor (like metal or ceramic). I have never experienced static but if I ever do it's nothing a little Static Guard cannot fix.

Back
to top