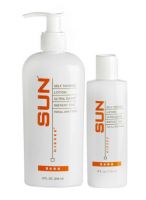 Ultra dark tanner

This is seriously the best product im light skinned not super pale.. i did one coat no steaks or spots. And loved the glow! I waited 24 hours and hit a second coat.. i have a beautiful brazillian glow and couldnt be happier! Just remember to wash your hands asap or they will be tan too

Great product

I have been using this product for 9 years and will continue as long as it is around. I started with the small bottle, now I keep the 32 oz. pump on hand 365 days of the year so I will have it for the summer. I actually mix it with a little of regular lotion to keep my legs looking soft and so they won't be too dark...considering I'm very white You will LOVE it! I even use it on my face after moisturizing and everyone thinks I've been out in the sun! No makeup needed!!!

THE BEST!!!

This self tanner always goes on smooth and evenly, has a nice faint smell, and best of all it gives you a tanned look, never orange. I've tried many others, and always go back to this one. The dark brown color makes application so very easy. For very fair ladies, this may not be the tanner for you, but for me, it gives nice browned skin. There is no shimmer to it, but if that's what you want you can always layer. Use this as a base, and use a shimmering tanner as a "top coat".

Back
to top