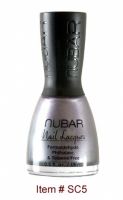 Nubar Liquid metal Lacquer Collection
As low as
All Frosted Polish Need A Topcoat Regardless of Brand - Nubar is Great!

I love Nubar polish! I have been using it for a 1 1/2 years and I would never go back to anything else. The crèmes have as much staying power as any on the market without a top coat. I have also compared the polish against the toxic-carcinogenic company frosts and it is just as good. You need a top coat with all frosted polish from any brand. Nubar also has the best color range of any non-carcinogenic nail polish. PUT TOP ON IT. Your health is worth a few chips.

Nubar Doesn't Meet Expectations

As much as the compant touts the chemically-free ingredients, my manis never lasted more than one day. And every fashionista knows there are no greater sins than: (A) someone showing up in your dress, or (B) chipped nail polish This polish gets a failing grade.

Back
to top