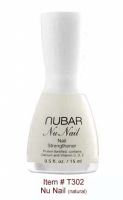 Nubar Nu Nail
As low as
Believe it! You'll see!!

This product is AWESOME, BUT....you need to use it EVERY day....so, carry it with you in your purse. It's a conditioner, so it's not like a polish that has to have time to dry. It really works. My nails have a tendency to chip EVERYTIME they get a chance, and this product has allowed my nails to finally have some length and look good! I can't believe it, but it's true. Price is affordable AN...read moreD especially so when you think of all the money you are going to save from having to get a manicure! Buy the bottle and have great nails today!

the holy grail of nail products!

This is my personal holy grail item. I absolutely love it. My nails were less stained looking after just one use. Since that first time I have used it as a base every time I do my nails and I have absolutely no staining whatsoever. Even the darkest polishes leave no trace. I just finished my first bottle and plan on getting my next. The only down side is the price. But, considering how amazing it is, it's totally worth it!

Back
to top