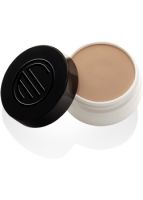 This is my foundation

I really like this foundation. When I purchased it I thought it was one of those foundations that turned from cream to powder. Not so. The story as I understand it was created as the original foundation. I believe it has zinc oxide in it which works well for the sun. It is thick but creamy. I just take it and put it on forehead, cheeks, nose and chin. Then, I blend outward. The most cove...read morerage goes in the center of the face. It is very thick in the container and when it goes on but It does not feel heavy at all. It is a nice dewey finish and it is perfect for winter or summer. In the winter, it really protects your face from the cold weather. I don't know if it has any moisturizing properties but my face does not feel dry. I think it has an sf of 15. It absorbs well. I have never run into a product or foundation like this before. I highly recommend. In the summer, I do like to put a sheer powder on it only because I sweat so much. In winter I just take powder and put on t zone. Then I put blush on top with light bronzer like a 3 around the face. I use the angled foundation brush they came out with in the past year and really like the way the foundation blends in. I highly recommend. I was told I looked "radiant"

Powder base foundation

I have always loved this foundation. It is luxurious and smells heavenly. It has great coverage and the colors are true.

Powder Base

Powder base, means a base for powder. Use it summer or winter. you can perspire right thru it, and it won't run or come off. I have used it for over 60 years and have never found anything as good. Makes your facial skin look flawless!