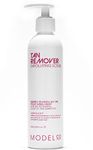 What kind of a tan remover is it?

What kind of a tan remover is it? Does is remove natural tan or spray tan?

Life Saver!

I never knew they even made tan removers, until I saw this ModelCo Tan Remover Exfoliating Body Scrub and knew I had to have it. I'm constantly getting tanner on my palms, and lemons just weren't cutting it anymore. Now that I have this its just washing my hands and its all finished. Great Product!

Just Like an Eraser!

I accidently applied too much self-tanner to my face. Yes, my face.. the hardest thing to hide. THANKFULLY, this product actually works and I can go out in public. Works like a miracle.

Back
to top