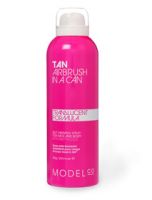 Just OK

This self tanner gets a very high ranking on this site but I just wasn't overly impressed when I tried it. It smells really nice, and the color isn't too bad. But I just found the application somewhat messy and the nozzle didn't work all that great. That might have just been the particular bottle I got, but it definitely seemed like there was something wrong. So I don't hate this product, but it's not my favorite :(

Bring it ON!

So easy and hassle free! I love just spraying it on and I notice such a natural nice glow on my skin. No orangey patches or bad smell. This is by far the best self tanning product I have used!

AWESOME SELF TANNER

No more tanning salon for me! This self tanner is AWESOME!!! So easy to apply, just spray on and you have the perfect tan the next day!

Back
to top