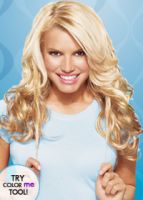 hairdo by Jessica Simpson 21" 100% Fine Human Hair Extensions
As low as
Don't waste your money!

The Jessica Simpson Hairdo extensions comes as one big extension you apply to the bottom half of your head. You put the bottom half of your hair up into pin curls and try to smooth them out flat so they can be tucked into the extension. Although the extension was the closest I could find to my hair color, it didn't match. It was totally obvious it was an extension. I found the extension hard to pl...read moreace and hard to wrap around the bottom half of my hair. I didn't think it looked flat once it was on either. It was also difficult to take off. The clips stayed in well but were hard to get out. I also found it to be heavy and would probably not want to wear it for very long. For around $200 for this, I was very dissappointed.

Really Fun

I have medium long hair, so I love the 21" to add on and really make my hair full. Worth the money easy to use, and style.

works great

I have short, fine hair and these extensions worked well. When I put them in, people I had not seen in a while thought it was my natural hair that I had grown.