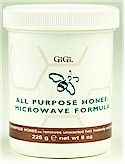 Wonderful!

I got the kit from Folica and i am such a ninny when it comes to waxing. I've used bunch of products with the results of pain and unhappiness. Bought this based on reviews from amazon and Folica. It comes with a cleanser, a pre-epilation oil, the wax, spatulas in 2 sizes, a wax removal item and a slow grow potion. I follwed directions exactly only heating the microwaveable wax for 30 sec at a time...read more. Only need to do 2 cycles o 30 sec. Wax was warm enough. application was not messy and hair removal was less painful than going to the salon. I abhor pain (when i get lab work done i have to have someone hold my hand), and this just stung a little. So happy i can now do all this at home.

I wont use any other brand

I decided to try to wax my eyebrow at home so I picked up this stuff. It is amazing. It takes a little practice but once you have the hang of it, you will love it! I now do my teenage daughters eyebrows as well.

Good Stuff.

I have used Sally Hansen wax and Avon wax kits, and those don't even compare. This is the only wax that seems to be strong enough to pull our every single strand of hair. This is by far the best waxing line ever. Wroth the extra few dollars.

Back
to top