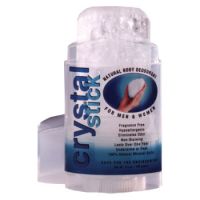 Too difficult...No pay off

I am a person who sweats a lot and needs deodorizer that both work really well. I loved the idea of this but it is time consuming and difficult to apply. Once it was finally on, it did not prevent my sweat and it did nothing for my body odor. I need a product that can control both, so I have to stick to Secret Clinical Strength.

:(

I really wanted this to work! I never use it before a full day, because it either isn't very quick to use, or isn't very effective. What in mean by that is if I quickly swipe it under my arms after a shower it's as good as using no deodorant at all. On days off, sometimes I'll take the time to work with it. This means that I use very little water, and work it back and forth under my armpits until ...read moreI've worked as much crystal onto myself as possible, then if I let the crystal-water mix dry, that seems to work a bit better, but the whole process takes about 10 minutes and it certianly doesn't do anything to tame the sweat after a full day. I've since started using Arm and Hammer Essentials in Fresh, which is quicker and a bit more effective. However, I have yet to find a aluminum free deodorant that I feel comfortable wearing to work or school. In the future I plan I getting a liquid crystal, because the crystal stick works well enough for a day around the house-it just takes so much time to break down the solid and get enough onto myself. So if you're debating between a crystal solid or liquid, I would definitely recommend the liquid.

Pretty good.

I like this product for I am staying in the house and relaxing. I does keep you dry I haven't tried it yet in warmer weather. Also you have to keep rewetting the crystal thia products is unscented.

Back
to top