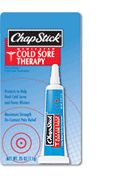 Chapstick Medicated Cold Sore Therapy
As low as
Great stuff

This is the one thing I can't live without

I always get cold sores....

I have gotten cold sores since I was little and I have tried EVERYTHING from the classic "take some lysine" to "get more sleep & stop stressing!" I have tried all products and nothing works as well as Chapstick cold sore therapy~it is HARD to find in the store, so you will probably have to buy online, but when you buy-buy LOTS because it is the only thing that works. It num...read morebs the lips~which is all you want when your lip hurts from a cold sore, you don't have to use it at the first itching-if you don't catch it in time it still helps to reduce the ugly pussyness, and it speeds up healing time. LOVE IT!

great for cold sores

one of the leaders, brings real soothing healing for cold sores.

Back
to top