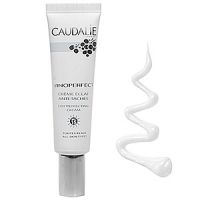 Moisturizing without the greasines

I tried a sample of this and I felt it was a nice moisturizer. It had a nice smell that faded once rubbed in. Not oily at all and I have oily skin. Absorbed really fast and didn't leave a sticky or greasy feel to my face. It actually felt silky on the skin. When I tested it, my skin was going haywire with breakouts(not because of the product though). After my chemical peels and microdermabrasions,...read more i mostly used this because my skin was pretty dry. I felt that this product helped calmed my skin a bit and added some moisture. It didn't help with the breakouts itself but my skin wasn't red and angry after applying this. I also noticed that my pores LOOKED smaller. I hardly ever use moisturizer because my skin is already hydrated and oily so I didn't buy this but I thought it worked well. My major issue with this is the price. I think it's overpriced, which is a huge reason I wouldn't buy it. If you don't mind the splurge I say give it a try.

nice moisturizer

I picked this up as a deluxe sample and I have been using this for awhile. I have combination skin, so I have problems of having an oily t-zone and having dry, flaky patches on parts of my skin. I really like how this moisturizer balances those problems out. I don't really need to use my blotting papers when I use this, and I have not seen any flakes on my skin either. I think it made my combinati...read moreon skin type turn more normal. My skin also looks glowy when I use this, and I never really wear makeup over it because I feel like there's no need to. Also, I have not experienced and break-outs when using this. I took off one star because of a few disadvantages. For one thing, it is a little difficult for me to apply my foundation over it, even when I wear primer. My foundation doesn't glide well over it like it usually does. I would also prefer to have a higher SPF. I have to wear at least SPF 30, so I apply sunscreen over it. Lastly, the one thing that stands in the way of me purchasing it is the price. It's a great moisturizer, but I would not pay that much money for something that has these drawbacks. Nonetheless, I'll be really sad once my sample runs out =(

SPF 15 for all skin types

I got a little 10ml sample and so far it's been good. It has a light fragrance and feels silky. My skin is oily and this is a bit too greasy/oily for my skin. It has SPF 15 so it's good for day wear under makeup. I would say this is perfect for dry skin. If you have oily skin, I would not suggest buying this product as it is too heavy.

Back
to top