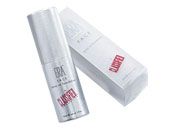 messy

Spray on foundation sounds cool but it is mostly just a mess! The foundation itself is good though...good coverage, just too much of a mess for me to use all the time

Great Wear

I just purchased this full size on clearance at a beauty supply house. Wow it is expensive! Spray on Foundations have always intrigued me, and this looked like a high-class brand (as opposed to, say, sally hansen or other such drugstore brands). It is mostly water, and I thought that would get in the way of the coverage or the staying power. Wow I was wrong! You can apply it either straight onto t...read morehe face from the bottle, or onto a facial puff. The coverage is good and this stuff doesn't budge all day - it's even sweat and humidity resistant! It was a good buy for me, and I wish this were more accessible!

Not great.

I have been using this product for many years and have enjoyed it in most cases however, even if price were not an issue, I am convinced that the Sephora brand is far better. Era almost ALWAYS splatters and requires way too much shaking for it to work. Testing to see if it's even ready to spray causes alot of waste. A Los Angeles make-up artists opinion.