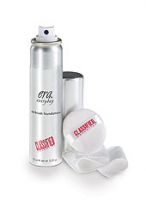 I couldn't tolerate the fragrance (odor)!

I used this foundation three times, hoping I would get over the repugnant odor, but couldn't get beyond it. I could smell this product periodically during the day, and if I could smell it, those around me could also. I had to throw out my favorite foundation brush because I couldn't get rid of the odor. I returned this product based on the odor, not the quality or staying power. If it was fragrance free, my review would probably be different.

FLAWLESS GODDESS!

Love it! This is my GO TO HG foundation! Amazing airbrushed skin in seconds! BUT you MUST MUST MUST moisturize. I SHAKE SHAKE SHAKE and spray on the top of my hand and use a foundation brush or sponge to spread! Also, you can spot treat even CYSTIC acne with this stuff! TRY IT! It is expensive, but the bottle is sanitary and lasts forever! They say around 3 months, but I have had mine for 10 months and still not even close to being gone! GET IT!

Evens Out Skin And Looks Natural

I tried this because of Carmindy. To apply it I dampen a sponge with moisturizer, spray the product on a mirror, then blend and stipple the foundation on. It gives my skin enough color to eve it out, adds luminosity without looking shiny and I lOVE it. My skin is normal with summer oiliness in the T-zone.