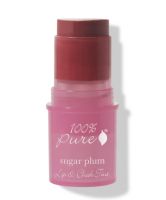 Amazing natural color

Love this natural color from this product. 100% fruit is a nice product. Very reasonably priced.

so natural

looks very pretty too

Vegan, All Natural Ingredients. Natural Color

My skin hates makeup. It just breaks out instantly whenever anything goes on it. Therefore I was even more hesitant to try this cream cheek tint. I gave in though as I love the 100% Pure line of natural and cruelty free products and the color (peach glow) was perfect for my olive skin tone. Wow, I love this stuff. While it felt a little like putting lipstick on my face, I learned that dotting ...read moreit and then using my fingers to rub in, was better than using a brush or swiping the stick across my face. The result was a healthy glow and no sticky residue on my face. I didn't feel heavy or that I was wearing makeup and the best part - my skin didn't react. Will definitely buy and again as it's a part of my normal make up routine.

Back
to top