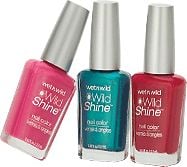 Not bad

For the price, it's definitely a good deal. Nailpolish is something I refuse to spend a lot on, so I'm glad I can get a decent polish for a little more than a dollar. Not a huge color selection, but if you can find one you like, then you're in good shape.

Didn't like this!

I grabbed a simple black and I wasn't impressed. It didn't brush on evenly and it was slightly more thicker than most nail polishes I've used. It chipped off quite quickly too.

Fun colors, decent quality.

Not as long lasting as more expensive polishes like OPI or Essie, but decent. Especially for 99 cents! I like the fun colors. The pigmentation is medium-low, so you'll need two or probably three coats. I'll be repurchasing these.

Back
to top