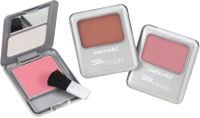 Wow

I stumbled across reviews of this and I was so surprised how everyone raved about it so I had to try it for myself. I got two, one's a rosy matte and the other one is almost like Nars Orgasm. In fact, it's more pigmented than the Orgasm; I had to use more of the Orgasm to get the same color as one stroke of it. It's a slightly more peachy than Orgasm but that's what I was looking for. They really ...read moreDO last. They lasted longer than most expensive brands that I've used. They are beautiful colors, and I am completely sold.

Good P-R-O-D-U-C-T

It is a good product and the pigmentation is very good. People think because it is inexpensive that it is a poor product - NOT true. I have a pink one so I can't vouch for other colors.

Great buy!

I LOVE these blushes! They are very pigmented - when I first tried them I didn't realize HOW pigmented they were and ended up looking like a clown- and go on very nicely. They are only $2 or $3. I think they are just as good as a high quality and high priced blush. I just wish they had a few more color options. I think all the colors are pinks and there are only 4 colors.

Back
to top