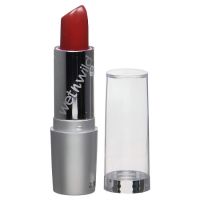 What a steal!

UPDATE: 1/27/15: Along with it being more drying, after trying the ELF lipsticks, they are also not as pigmented as ELF. At least the ELF Studio line, but these are a bit more, so I still like WNW for only a buck!! ................. Excellent bargain,especially for someone like me that usually wears lipgloss rather than lipstick. Plus, I can try all kinds of colors and not feel guilty. The only re...read moreason I did not give the lipstick a 10 is because like other reviewers said, it is drying and you will need lip balm underneath.

Review: Wet n Wild Silk Finish Lipstick

Pink Ice is gorgeous color! The overall color is at first sheer, then layer it for a very bold look. The lipstick is slightly drying, so use Korres Guava Lip Butter or Nivea A Kiss Of Recovery under it!

Not long lasting but very inexpensive

I think Wet'n Wild is one of the decent & inexpensive make-up product line. The lipstick seems to come off easily and quickly. If you are planning to drink/eat often, I may not recommend this one. However, if you don't want to spend too much money, this is good enough.

Back
to top