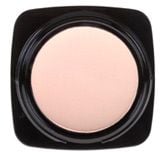 ick!

I'm sorry to say it, but I am not a fan of this. I don't like the texture, and it doesn't glide on my skin like I thought it would. I have found that it clumps into my little fine lines, and gathers in my scars. The colors are vast, so that is a good thing, and I think for somebody that already has pretty much flawless skin this would be a good pick, but not for me!

Fabulous!

This is hands down the best foundation money ca buy. It glides on easily and makes my skin look flawless! Its very light, you will not feel like you're wearing foundation. It is a little pricey but it goes a long way and its worth every penny. I first use his water canvas base primer (also amazing), then I apply foundation, next I dust a little perfect canvas loose powder all over and fini...read moresh off with his bronzer and or blush..............his products are amazing. You won't be disappointed. Also if you register on is site, every so often they offer 30%off!!!!

My skin only better

This is one of the best foundations that I have ever used and I've tried and used most of them. I've applied it with a foundation brush and it looks so natural (only better) that I ran a q-tip on my face to see that it was there. If I need a bit more coverage, then I apply it with a sponge. My only complaint is that the center tends to crumb up making it a bit more difficult to apply. I still love it.