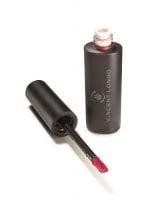 VINCENT LONGO LIP & CHEEK GEL STAIN

I dislike the heavy feeling of lipstick, leaving lip prints on my drink, having to reapply, and generally feeling "made-up." That is why I love lip stains, and I specifically love this formula. I don't find it too drying (especially since I can moisturize without removing the color.) It last such a long time, and is totally low-maintenance. I especially love its versatility: I can layer it. For ex...read moreample, if I'm just going to school or something I put a dab in the middle of my lower lip, and two dabs in the middle of my upper lip, and blend it all out with my finger or a q-tip if I'm feeling fastidious. Then I can leave it or top it with balm or gloss. Sometimes I put on lip balm before the stain. It doesn't last as long, but the margin of error is lessened slightly. If I'm performing and want to use this for the stage, I'll take the applicator and line my lips and blend inward, and repeat a couple of times. Then I'll dab again in the center of my upper lip and blend out. After that I can top it with whatever long-lasting gloss I want and voila! As some reviewers said, it absorbs very quickly, so it can be tricky to blend into the cheeks. I sometimes mix a little of the stain with a very small pump of my moisturizer if I want the color on my cheeks; it makes it much easier to blend. I bought this product about two years ago, and I'm still working on the first bottle (Baby Boo), so I a little goes a long way. All in all, a very versatile and useful product, and I'd buy again if I ever ran out. I bought this over a year ago in My Sunshine a warm cherry color, and have been very pleased with it. I use it both for (moisturized) cheeks and lips, and I've found it helps make a good base for other lip glosses/colors I want to apply over. The consistency and applicator are liquid but not too runny. It's very potent so a couple of dabs are enough- but you do have to be quick about blending it. At $20-something dollars, I'd say it's a good value considering I've been using it for more than a year now and I'm only halfway finished. I bought this from qvc in Liquid Kiss. I had been using Origins cheek gel, Stila gel and Clinique so I guess you could say I like the concept. When I first tried the Longo version I was unhappy with the blending process but I can see from the other reviews that I must have been doing something wrong or was just not quick enough. When I tried it again using a Beauty Blender sponge I found that I wasn't as clumsy and liked it alot better. It lasts forever, giving you a nice flush that doesn't look fake.

Patchy application

I heard great things about these lip/cheek stains so I was very disappointed when I received the stain I purchased in the mail (in the shade Babyboo). Even after exfoliating my lips, the stain appeared very patchy and clinged to skin on my lips. It was difficult to apply and quickly gravitated toward just the center of my lips. It looked like I sipped on some dark cool aid and not in a good way...read more. This worked slightly better on the cheeks but still didn't blend well at all. The color wasn't as suitable for my cheeks with my coloring. I was really hoping this could be a makeup bag staple that would fit the bill for long work days, but every time I try to work with this I just get more frustrated.

A must have in your make-up bag.

Love it. It keeps your lips looking colorful for a very long tim.

Back
to top