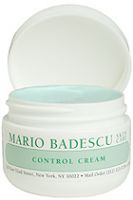 911 For Red Skin

When I need to call 911 for overindulgence of Retin-A, I use Mario Badescu's Control Cream. The anti-redness cream works quickly on my red and irritated skin If I wake up after too much indulging of Retin-A, I soothe on this cream before anything else. It is great for Rosacea sufferers, too. Although it appears thicker than other moisturizers, it feels lightweight on my skin. Smells fresh, too.

Great for whatever your redness reasons are

My skin isn't overly sensitive, but occasionally I irritate my face a bit too much with an apricot scrub, or leave my chemical peel on a minute too long and thus end up with red, irritated skin. This cream does exactly what it says, although I can't speak for those with skin conditions like eczema. This cream goes a long way and seems to soothe my redness very quickly after application. The rednes...read mores doesn't go away immediately, but it definitely makes a noticeable difference. The main benefit of this cream is that it calms your irritated skin and reduces inflammation. It has virtually no smell and it's slight light blue color may also help to counteract redness. I recommend this to anyone with redness problems, regardless of cause.

Soothing...

I was really happy to have had a sample of this product to initially try. As I am getting a bit older I am developing some skin issues that I didn't have before, one of those being "rosy cheeks". Not just rosy cheeks... but dry, flaky, irritated cheeks as well. I have been using just my normal moisturizer (from Mario Badescu) daily and had been eye-ing up their Control Cream on the MB website f...read moreor awhile now. I didn't want to buy I full-size jar and have it not work for me so I requested a sample of it with an order I submitted. I have to say that with just patting a bit on the red areas of my cheeks that I had seen a significant change after just a few short days. I did purchase a full-size jar since receiving the sample and the jar has lasted me forever so I would have to say that it was well worth the cost. Especially since it has virtually erased the redness, bumps, and flakiness that I had before. And as with all Mario Badescu products, a little goes a long way...

Back
to top