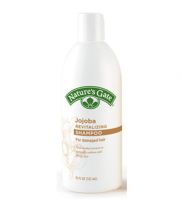 So creamy!

It's like putting lotion in you hair. Leaves your hair so soft and detangled. The smell is very earthy and rich.

A truly terrific product

This is one of the few shampoos I've found that doesn't contain alcohol. Instead of this drying ingredient, it contains jojoba and protein--a must for any hair product to be truly "revitalizing." For around five bucks you get a big bottle of all-natural shampoo that smells like almonds and leaves your hair feeling clean, refreshed, and well-nourished. The only thing that feels better tha...read moren this shampoo's rich lather is knowing you're supporting a small, Earth-conscious company. Downside? It's not very concentrated, so you go through it quickly.

Awful

This shampoo is now "new and improved" and it's horrible. It doesn't lather at all and I don't think it's washing my hair. It smells like lavender which is weird. I hate it!

Back
to top