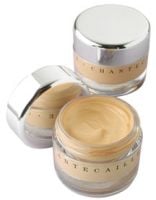 Chantecaille Future Skin Foundation
As low as
Love this foundation!

I have very pale skin and was skeptical when my product specialist tried to put this on me. It looked so dark in teh jar. Silly me. The gel formulation goes on much lighter than the way it appears in the jar. It covers well, but looks invisible. It just looks like my skin, only better! I love the easy-spreading texture and that I can use so little of the product, yet cover my whole face. This jar ...read morewill last a very long time. Here's a hint - be sure to save the little clear cover that comes with it. This will aid in keeping it from drying out. The only thing I wish was differnt was that it had a way of delivering it without using my fingers in teh jar, maybe a pump? Perhaps the texture makes this impossible. Still rates a 10 for me!

Chantecaille Future SKIn in Hazel

I Love this foundation... Great for combo oily t zone skin... Makes your skin dewy and fresh looking... I am 32; I do not have wrinkles yet ;) Keep my finger crossed ;) I am Black and Italian so the color is great. Hazel Also have the loose powder in Shadow Overall the best foundation Out of Prescriptive and Dior... I am between colors in most product lines so great to find a true match with ...read moreFuture skin... Applies like a dream with a foundation brush... Will buy again ****** It is worth the $ 65, packaging is fine.. It wears great no touch ups after an 8 hour work day.. It held up to 112 degree heat ( the heat wave in CA ) and still looked great..