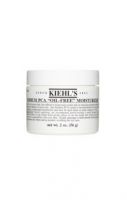 Kiehl's oil free moisturizer

This is the best facial cream on the market. It really is amazing, and a little goes a long way. It leaves your skin extremely hydrated without feeling greasy. I love putting it under my eyes. As soon as you put it on, you can feel it soaking into your pours. I used to work at Nordstrom and on my breaks would always go to the Kiehl's counter. I own this product and carry it with me everywhere. I r...read moreeally don't even have to because it is so hydrating that you really don't need to keep reapplying it, I just love it that much where it just feels good to put on. This product will make you want to throw out your other creams. After you apply it, it's hard not to touch your face because it leaves your face literally feeling silky and super smooth. Everyone should really give it a try, even if you just go to the Kiehl's counter and they give you a sample. Trust me you will be blown away and end up purchasing it. I believe if you keep using this product, you will save many years of your face from fine wrinkles. It just leaves your face feeling young like a baby's face. Another thing I love is that when you put it on you don't have dry patches here or there after a while, it's that well balanced. I guarantee you it's worth every penny. The jar many seem little, but it will last you a long time, because you don't need to put a lot on. Less than a pea size will cover your face and neck. This is the only facial moisturizer I've used that actually last a long time. If I don't wear makeup and use the cream only, it last me all day throughout the night, no problem wake up feeling like you just put it on. Another excellent pro is that it's not tested on animals. I'm a huge advocate of reading about products before I buy them. I want to know what I'm putting on my face. Since it is a thicker cream, I would suggest using it at night, if you don't want a thicker cream on during the day. I myself use it in the mornings. I like to switch up my facial creams after a month, it just depends, but it can live with just this as a moisturizer not a problem.

Best moisturizer ive ever used!

I used to cringe at the word "moisturizer" mainly because they made me break out. that is until a very helpful Keihls counter worker at Nordstroms talked me into using this moisturizer. in the winter, i get spots of dry skin but my T zone is still oily, this moisturizer seems to even that imbalance out. my skin now very rarely breaks out--if ever-- and its very smooth and soft. im very relieved at having found this product! im definetly now a lifetime devotee!

combating combination skin at its worst

I have super oily skin but suffer from exzema as well. I've been using this moisturizer for years and it is great. I use topical medicine for acne and this pairs nicely with it. Good for sensitive skin as well.

Back
to top