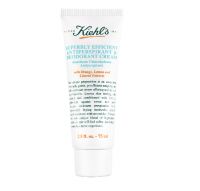 Outstanding!

I recently purchased this to try after reading all the great reviews and honestly, I am not disappointed. I have struggled to find an antiperspirant/deodorant that would be as effective as I want and need it to be, and I have finally found it. The applicator is a little weird and takes some practice, but it's worth practicing because this product WORKS. Because I'm rubbing the cream into my skin (...read moremuch like a lotion), the product is absorbed where it's needed instead of getting all over my clothes (and without needing to wait for it to dry). I'm up at 5 in the morning and this stuff is still working when I get home at 5 in the evening and even still at 7 or 8 when I'm just hanging around the house. I took a walk at lunch today--it's warm and sunny outside and I'm wearing a black cardigan, but when I got back to the office I was neither sweaty nor smelly. It's truly amazing to me that it works this well. The next test will be wearing it when I go out for a run, but I have every confidence it will work just as well in that situation. Update 6/13/12: I have since used this product when running, including up to 7-mile runs, and it passed the test! Of course I get plenty sweaty when I run, but I most definitely was not smelly when I finished. I love this stuff! Also worth noting is that the cost for a tube is higher than drugstore deodorants, but my $15 tube is lasting a LONG time. I need only a tiny bit each morning to get all day results.

Nothing else works as well as this

I was getting desperate when I tried this. Not even the prescription deo my derm prescribed works as well as this to combat both odor and wetness. In spite of its powerful protection, this is also the gentlest deodorant I've ever used. I can apply it straight out of the shower on my freshly-shaved pits without so much as a twinge of pain. It also truly unscented and clear--no more white marks on c...read morelothes. The cream formula isn't as messy as it sounds. You squeeze a small pea-sized amount onto pits and then rub it in with the flat-top plastic applicator (it's built like a lipgloss). When I use this after my AM shower, I got to bed still dry and odor-free.

Good product, too pricey

I really liked this product. I appreciated the fact that you could rub it in and really cover the area that you needed to cover without wasting alot of product. It is freshly scented and not overpowering. It stopped my perspiration. However, it is not a value.

Back
to top