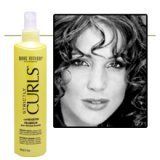 Marc Anthony Strictly Curls Shampoo Free Curl Reviver
As low as
Amazing buy!

I have naturally kinky, curly hair and I have tried a slew of gels, mousses, sprays and everything in between for curly hair and this was one of the best if not THE best! It makes incredibly high shine and defines each curl just like beautiful Disney princess curls! It fights humidity all day long and always looks fresh and beautiful! I used it on wet hair and scrunched and I also used it on dry hair to refresh my natural curls. I even used it on curling iron curls and it improved them!

STRICTLY CURLS ROCKS!!& IM GONNA ROCK THOSE CURLS

I LOVE-LOVE MARCANTHONY'S PRODUCT STRICTLY CURLS-CURL REVIVER!! IT WAS GIVEN TO ME BY AN ASSOCIATE THAT MOVED. AND IM ALMOST OUT & I WAS FREAKN -OUT BECAUSE I COULDN'T FIND IT ANYWHERE,UNTIL I LOGGED ONTO YOU.., I HAVE TO HAVE THIS PRODUCT& IM ALSO INTESTED IN THE BOOSTER PRODUCT. MY HAIR IS NATURALLY CURLY & STRICTLY CURLS "DEFINES" MY CURLS ,IT'S HARD FOR ME TO FIND ONE THA...read moreT WORKS ON MY HAIR.& MY HAIR FRIZZES SO THAT'S WHY I WOULD WANT THE BOOSTER PRODUCT ALSO. WHEN I SAW "THE SEPHORA SWEEPSTAKES CONTEST" I SAID THATS WHAT I WANT TO NAME MY DAUGHTER AND IF I WIN YOU BET YOUR "BEAU-TY" HA-HA IM NAMING MY DAUGHTER "SEPHORA" SO PLEASE GET BACK TO ME THANK-YOU TAMPA,FL. TINA

I cannot live without this product!

For the first time in my life I have stopped straightening my hair and decided to live with what God gave me. I am growing my hair out long and letting it curl naturally. My hair is normal to dry and after sleeping on it it gets a bit flat. That's when I discovered Marc Anthony's Strictly Curls SHAMPOO FREE CURL REVIVER! I absolutely cannot live without this product. I have never used anythin...read moreg like it! I spray it on dry hair in the morning, comb it through with a wide tooth comb and in no time I have beautiful, shiny, soft curls. The fragrance is so light and fresh / clean some kids at the school I work at have said, "your hair smells nice." It is not sticky or stiff like a gel or mouse and leaves my hair softer and shinier than when I first wash it. It is so easy to comb or brush through as well. It is very difficult to find and purchase in my area and I was worried it was no longer being made. I really, honestly can't live without this product. Every day is a good hair day with SHAMPOO FREE CURL REVIVER!!

Back
to top