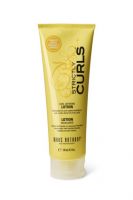 bogo

i got this a buy one get one free from my local cvs and i beleive that i bought it about 6 months ago. i don't use it every day since sometimes i blow dry my hair straight buti do wear this product sometimes and i am still on my first bottle. it leaves my hair thick and curly. i do however have to add a little hair spray for a subtle hold and some shine serum and then im good to go!

Makes my curls very stiff

If you want smooth and touchable curls, do not buy this product. This curl defining lotion made my curls very stiff and with a strange coating.

Bad hair product.

Why did it ever occur to me that this cheap looking thing would actually work? Urgh! And ot's very expensive here in Mexico!! Omg, I should've just bought the Tigi Curlesque cream, now THAT's a fine curl product! Not this fake product, and same goes for it's shamppo and hair conditioner. Just STAY AWAY from this product, my curls are dry and dead. Stiff and frizzy. Makes my expensive hair cut look stupid, actually.

Back
to top